Global Chilli Fest is coming!
With event organisers all over the globe reeling from the ever-tightening grip of COVID-19-related cancellations, it's hard to keep a calm head.
People all over the world are facing business ruin or, at the very least, extreme hardship, with incomes just vanishing overnight.
Amongst this cohort are the small businesses, the artisans who rely on markets and festivals to sell their wares, in conjunction with online sales. If the latter is not yet a big enough part of the business to enable survival through hard times, then they are in big trouble.
Festivals like Briz Chilli Fest (Brisbane) scheduled for 14th June 2020 are sitting on the fence, suffering from the "what happens next" syndrome when an event is three months or more away from the current tide of cancellations.
Will the virus have peaked? Will we be allowed to congregate freely again by then? Do we promote or not? What should our PR campaign be?
As both an event organiser and a PR professional, Sandra Beynon and her alter-ego Scarlett Habanero hatched a plan to combat the doom and gloom in the events industry.
Why not host a GLOBAL VIRTUAL CHILLI FESTIVAL?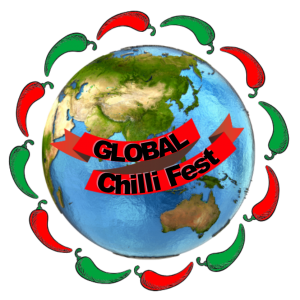 How?? Well, we're not quite sure of the nuts and bolts just yet, but we know it can be done so we have the best people working on it.
The Global Virtual Chilli Fest or Global Chilli Fest will have at its heart a virtual #HellfireAlley – the name used to describe the line-up of chilli vendor stalls at both Briz Chilli Fest and Chillogan Festival.
Unlike a real festival where vendors come from a certain radius, the virtual global chilli festival is not limited by any borders.
In fact, it's the only entity in the world that isn't hampered by any border control at all!! Woohoo!!
So, how will it work?
Interested people from anywhere in the world can register their interest via our Facebook event.
To be able to attend, they'll need to register via a ticket portal to cover the cost of the festival (we're thinking USD5.00). Then, once registered, they'll have access to the list of participating chilli vendors and will be able to contact them directly to order a SAMPLE PACK or indeed any of their products for a nominal fee to cover postage.
That way, on festival day, they'll be able to ACTUALLY taste those products they've shown an interest in. No virtual tastings are possible of course.
On Saturday 2nd May at 8pm (AEST) the global virtual chilli festival launches from Body and Soul Australia's event headquarters in Brisbane., live-streaming via Zoom software all across the globe.
Vendors and festival-goers can "attend" and "participate" in the festivities without leaving their home, office, warehouse or studio.
SELF-ISOLATION CAN BE FUN and we are out to prove it with this world-first festival.
The time-frame allows even US citizens and vendors to participate from around 9am-Noon local time.
Like any festival, we'll have live performances from any artists who'd like to volulnteer 15 minutes of their time from the comfort of their home or studio.
Like to know more? Email us at mail@bodyandsoulmusic.com.au and talk to Scarlett Habanero – our fearless chilli festival producer.
Or apply to be a vendor via the online application form: https://www.cognitoforms.com/BodyAndSoulMusicAndEvents/GlobalVirtualChilliFestival2020
Register to receive the login: https://events.humanitix.com/global-virtual-chilli-fest-2020/tickets
Remember…..KEEP CALM AND CHILLI ON!